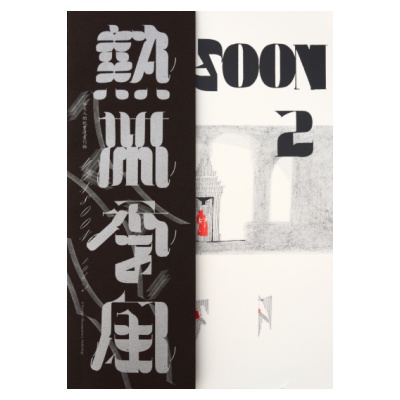 Monsoon Vol.2 - South-East Asia
Painter:
Art Jeeno, Jimmeh Aitch, 陳沛珛, 小錢, 冼佩珊 NOvia Shin, Lefty, Adoor Yeh, 61Chi, 歐泠
Publisher:
Category:
Reality is unfathomable.
Documentary Graphic Novels expose the poetry and cruelty of a modern life.
A historical cafe in Malaysia impacted by the rise of tourism in Penang.
A group of offshore Indonesian fishermen disfranchised by the lack of labor law oversight.
A generation of Khmer Rouge survivors living with psychological traumas.
A population of rural Laotian children receiving education in monasteries, and their heritage temples adapting to modernity.
A subculture of Thai youths negotiating an outlook on sexuality unfamiliar to their parents.
A contemporary Thai artist exploring the changing relationship between the self and his motherland.
These stories of everyday peoples have been made available via the artistry of the contributors. Together, they depict a portrait of Southeast Asia different from the past. It's one that reflects reality as mysterious and profound, yet intricate and thought-provoking.
Valued Printing.
A contemporary comic for a permanent collection. Unique serial numbers for limited-edition first-prints.
Slowork has been exploring the value of printed books in the digital age. From its founding publication of a handprinted book to Monsoon, an anthology designed by an acclaimed artist, the house aims to produce works that can be treasured as a permanent collection. Each page has been specifically designed: the paper type, its quality, the colors, even the metallic printing. This is not merely a replica of a manuscript - it is a creation that has been reimagined. The first-print will include 2,500 limited-edition copies, each with a unique serial number.
Praises
"Why draw when you can use text or documentary? As a writer and a historian of image works, I wondered. But I realized the answer as soon as I opened Monsoon. This is absolutely an independent and original genre, one with a diverse set of codes and an unrestrictive use of grammar. This medium might just be more impactful than images, more poignant than poetry, more fantastical than fiction, more real than reportage. It has more rhythm than an illustration book and is more profound than most comics. Something like this requires a slow and quiet reading experience - the essence of which poses a challenge to web browsing. Hence, this has to be a printed work. The editors have treated this with obvious meticulousness. Readers should examine the creation meticulously too."
— Mingtsung Lee (Social Scientist)
"Documentary graphic novels are like films from Taiwan's New Cinema of the 1980's. They are a record of the way we lived, creating a legacy still much discussed today. Monsoon is an interesting experiment that has a premium touch and feel."
— Sean Chuang (Author, Illustrator)
"Reality is a timeless topic, but the personal touch placed on these documentary graphic novels has filled the work with poetry and perspectives. Monsoon is the culmination of Slowork Publishing's utmost sincerity and its craftsman-like spirit. It's a publication worthy of every reader's anticipation and support."
— Wood Lin (Curator of Taiwan International Documentary Festival)