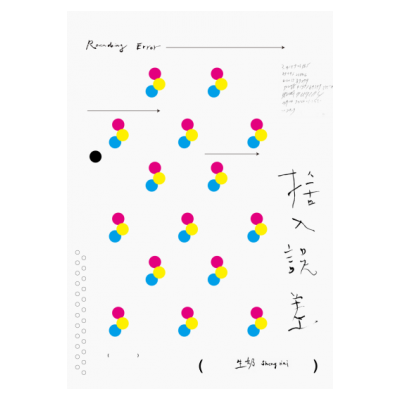 Rounding Error
Publisher:
Category:
★Author introduction★
Sheng Nai
Taiwanese contemporary poet, artist, video & soundtrack professional worker.
Sheng Nai was born in Chiayi and grew up in Kaohsiung. When he was young, he was influenced by his parents and began to write poetry.
Later, he met Du Shisan, learned of the diversity of poems, and began to publish poems in newspapers.
At the age of 17, he left home to study and Xuan settled in Taipei.
In 2013, he published his first personal collection of poems "Honest Liar".
Later published "Wanna hold a steal from your hand", "Love Me Good", "Zhang Sui Ji", "Winter Spring", "Mandarin Duck", "Heaven", "Cash Machine", "The Letter Four and Its Pronunciation, Afraid of Your Mouth, Gu Sewing. 321", "Zero Drift" and more than ten collections of poems.
In 2014, "Wanna hold a steal from your hand" won the TOP1 of National Atlas Taiwan Publishing;
In 2017, "Zhang Sui Ji" won the 14th "Kingdee Award" Taiwan Publishing Design Award finalist.
The footprints of Sheng Nai's works span "Qidong Poetry House Salon", "Jizhouan Literary Forest", "Chiayi Taiwan Library", "TiBE Reading Desk", "Daozhiyi Yunlin Image Products Museum", "Banqiao 435 Arts and Cultural Special Zone", "Eslite R79 Eslite Underground", "MOCA Taipei", "Keelung Living Together", "Guling Street Scholars Creative Market". Readers are from Japan, Germany, the United States, China, Hong Kong, South Korea, Malaysia and other countries.
The poems of Sheng Nai have a strong style, and are famous for "expressing complex in plain words, expressing affection in plain language, showing the common loneliness and confusion of human spiritual life, and leading readers to re-understand themselves."

★Content introduction★
Two years of Sheng Nai hidden in the city, a book of understanding of the world.
A total of 59+1 poems for friends who want to know themselves again.
This book explores that a person's choice determines his destiny, which means that every choice we make directly or indirectly changes the curvature of each other's life path. The judgments before making these choices, like those decimals that can never be divisible, often rely on intuition for rounding or rounding. The rounding error produced by the choice is the unique breathing style of each person. These subjective consciousnesses of right and wrong form the diversity of people and slowly turn us into who we are now.

★Reading Suggestions★
It is especially suitable for one person to read, one to cry, and one to laugh, to explore oneself at each stage.
With the growth of life experience, readers also have the opportunity to experience the different levels of texture in this book.
It is a book that can be read for a lifetime, so please read it every year.
It is recommended that one person hide and flip.

★Binding Features★
Three-color screen printing, embossing, pitting, punching, and heart punching, with strong appearance and soft inside.
★Cover design★
Connie Huang is good at book binding design and illustration. In 2012, he independently published a collection of pictures and poems "Let me lean on your shoulders to listen to you or write poems for you" and "Are there things you want to forget", and was shortlisted for the 2018 Golden Butterfly Awards with "Getting Closer". Graphic design works are included in Japanese PIE books, APD Asia-Pacific Yearbook, SendPoints, etc.
★Book materials★
ISBN: 9789869857215
Specifications: Paperback / 128 pages / 12.8 x 18.5 x 0.9 cm / Normal grade / Monochrome printing / First edition
Place of Publication: Taiwan
Category: Poetry>Chinese Modern Poetry
★Direct purchase discount (mailing & shipping included)★
TWD 350(Standard Edition)
https://core.newebpay.com/EPG/MS3440074760/Vqw4rK

TWD 500(Signed version)
https://core.newebpay.com/EPG/MS3440070920/Wm1xhg


It can also be purchased from major channels.