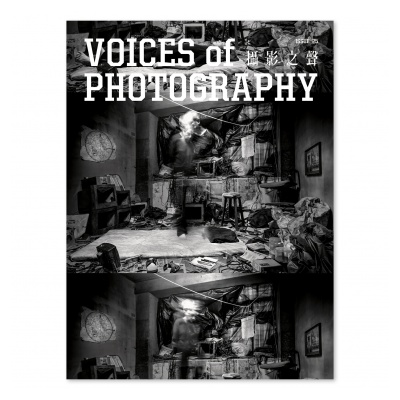 Voices of Photography 攝影之聲 
Issue 25 : 監控 : 科技資本主義及其不滿 
Surveillance: Technocapitalism and Its Discontents 
歡迎來到2019,在本世紀將加速前往第二個十年的同時,全球正進入新型態的治理境界,一個炫麗繽紛的數位異化年代。科技資本主義鼓吹的美好網路資訊社會、數位公民幻景,現已整合為順從技術應用與網路社群企業的領導,使人在不斷製造的便利、歡愉與安全的服務口號中上癮,聽任其監控我們的一舉一動,將我們挾帶進難以辨識的、以演算法、審查與評分機制流動控管的漩渦之中,牢牢確保現實世界按照既有的政商權力體系運作。當資料從原本網路科技的副產品,變成如今科技資本主義發展的主要目的,成為「資料(影像)」而非「使用者」的我們,如何建立反支配的能力?
在本期《攝影之聲》中,陳界仁揭示當前科技-政經複合體的「全域式」操控警訊,在人類的自我意識存在危機與新種姓制度降臨之前,尋求從中突圍的思考路徑;義大利藝術家保羅.奇理歐對網路重商主義造成個人資料的濫用加以反擊,藉由遊走在法律邊際的藝術介入,提出積極干預與對抗的社會實踐;作為網路藝術的先鋒,鄭淑麗將在威尼斯雙年展台灣館展出的「3×3×6」,延伸邊沁的環形監獄概念,以3D影像掃描、臉部辨識技術與行動應用程式裝置,駭入「數據全景敞視監控」(data panopticon)的當代牢籠,呈現跨域解放的科幻異托邦地景。同時,我們也邀請影像研究學者黃建宏與新媒體藝術家陶亞倫進行深度對談,論析監控結構、影像科技與人性欲望的糾葛關係。
此外,本期收錄多篇專文:張世倫以蘇育賢錄像作品中脫逃移工的影像所引發的監管議題、以及台灣攝影史上第一次全島大規模拍攝身分證的影像事件等,疏理攝影本身隱含的治理元素;孫松榮則從1980年代初、台灣首位銀行搶犯李師科被監視器拍下的身影,乃至高重黎與陳界仁的錄像藝術,剖析體制的視線規訓;施懿珊的網路社會生態實驗與身分發明,持續進行新一波數位統治術的思辨與未來預示;顧錚藉由冷戰時期東德秘密警察遺留的影像檔案,一探諜報監視技術的早年發展;張瑋探尋敏感反映監控體系的當代藝術,思索科技應用與控制之間的辯證啟示。
「攝影書製作現場」單元進入「編輯」階段,特別訪問日本著名攝影出版社蒼穹舍的創辦人、資深圖片編輯大田通貴,並記錄了大田的影像編輯工作實況。「影像香港」單元則論辨十九世紀初、香港第一位攝影師的攝影史推論解讀。
2019年的歷史意義,是為了進入2020政治權力佈局而存在的一年。賽博空間作為兵家必爭之地,權力引發的控制欲也將啟動網路科技新一波的社會效應。在這個政治人物集體網紅化、並試圖將公民鄉民化的詭譎時刻,你我將在歡樂的聲效氣氛中,準備迎接從未經歷過的處境。
Welcome to 2019, a dazzling era of digital alienation as this century accelerates into its second decade and the world enters a new state of governance. The glorious information society and visions of a digital citizenry advocated by technocapitalism have integrated into leaders of technology application and Internet social enterprises. We find ourselves hooked on the constant slogans of convenience, pleasure and security, allowing our every move to be monitored while being dragged into a whirlpool whose flow is controlled by an unrecognizable mechanism of algorithm, review and scoring, thereby ensuring that the real world operates in accordance with established political and business powers. As data transforms itself from a by-product of network technology to become the main purpose behind the development of technological capitalism, how do we build the ability to resist domination as we turn from 'users' to 'data (images)'?
In this issue of Voices of Photography, Chieh-Jen Chen rings the alarm on the pervasive control of the current political economy of science and technology, seeking a path of thought towards a way out before the descent of an existential crisis and a new caste system. Italian artist Paolo Cirio strikes back at the abuse of personal data resulting from Internet mercantilism through social practices of active interference and confrontation, using art forms that teeter on the edge of law. As a pioneer of Internet art, Shu-Lea Cheang will be representing Taiwan at the 58th Venice Biennale with "3×3×6", an extension of Jeremy Bentham's concept of panopticon. Hacking into the "data panopticon" of a contemporary prison using 3D image scanning, facial recognition technology and mobile applications, a cross-domain and liberated sci-fi heterotopia opens up. At the same time, we have also invited imagery researcher Chien-Hung Huang and new media artist Ya-Lun Tao for an in-depth discussion to analyzing the complex relationship between surveillance structures, imaging technologies and human desires.
Readers will also find a number of essays in this issue: Shih-Lun Chang reveals the political element hidden in photography as he takes a look at the regulatory issues that were sparked from the image of an escaped migrant worker in Yu-Hsien Su's video work, and the first large-scale identity card photoshoot in the photography history of Taiwan; Song-Yong Sing analyzes the institutional discipline of vision through the images of Shih-Ke Lee, the first bank robber in Taiwan in the early 1980s, that were caught on a surveillance camera, and the video artworks by Chung-Li Kao and Chieh-Jen Chen; Yi-Shan Shih continues to contemplate and predict a future that is dominated by the new digital wave through her Internet social ecological experiments and identity inventions; Gu Zheng explores the early development of espionage surveillance technology through image files left behind by the East German secret police during the Cold War; Chang Wei ponders the dialectical relationship between technology application and control as she looks at contemporary art that consciously reflects the system of surveillance.
The "Photobook Making: Case Study" series enters the "Editing" phase. We have a special interview with Michitaka Ota, the founder of the renowned Japanese photography publishing house, Sokyu-Sha, who is also an experienced image editor, and follow him in action at image editing work. Meanwhile, the "Image Hong Kong" section discusses the interpretation of the photographic history of Hong Kong's first photographer in the early 19th century.
2019's significance as a year is because it exists for the political power mapping of 2020. As cyberspace turns into a crucial battleground for strategists, the desire for control that comes with power will also trigger a new wave of social implications brought about by Internet technology. In these volatile times when politicians are becoming Internet sensations and trying to turn citizens into netizens, we will be preparing to face never-before-encountered situations in an atmosphere of joyful theatrics.