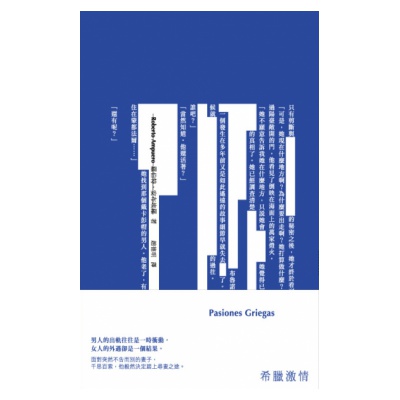 Pasiones Griegas
Publisher:
Category:
" I will not . Do not call me or look for me " is the unexpected message that Bruno Garza is a morning on your email screen . Fabiana , his wife , has decided to leave . Until that day, wearing a rather quiet existence in a city in the American Midwest prairie . He had a chair on utopian thought and lacked great emotions , except to deceive his wife .

But Bruno is not willing to lose Fabiana. Decides to conduct a desperate search, which not only go after his wife , but after explaining why his life routine that fell their marriage, the breaks of lost love and passion .

Fabiana , however , flees her husband and herself, in the shadow of its past and its origin in an exotic Central and violent , leading piggyback painful family secrets .

A beautiful and remote Greek island is the site that both are plotted , without prior agreement, as the probable place of reunion. It brings together their best recollections of what was his love , passion and happiness. This is how the paradise which maybe someday Bruno and Fabiana must reach or return .