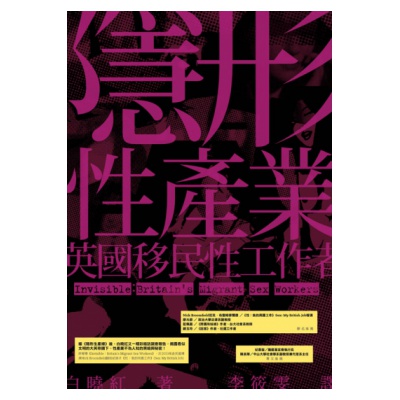 Invisible:Britain's Migrant Sex Workers
Publisher:
Category:
"This is investigative journalism at its best. Fearless, rigorous, and compassionate, Invisible is a shocking exposé of Britain's shadow world of sex slaves."—James Brabazon, author of My Friend the Mercenary
"Pai has done it again; she went undercover, smelled the breath of violence and videotaped the underworld of pimps and madams. . . . Hsiao-Hung deflates the myth of sex work as a free choice for migrant women."—Lydia Cacho, author of Slavery Inc.
Ming and Beata share neither the same language nor cultural background, yet their stories are remarkably similar. Both are single mothers in their thirties and both came to Britain in search of a new life: Ming from China and Beata from Poland. Neither imagined that their journey would end in a British brothel.
In this chilling exposé, investigative journalist Hsiao-Hung Pai works undercover as a housekeeper in a brothel and unveils the terrible reality of the British sex trade. Workers are trapped and controlled—the lack of freedom this invisible strait of society suffers is both shocking and scandalous and at odds with the idea of a modern Britain in the twenty-first century.
A feature-length documentary based on Invisible and directed by Nick Broomfield was first screened in the United Kingdom on Channel 4 in September 2013.
Hsiao-Hung Pai is an acclaimed journalist whose report on the Morecambe Bay tragedy for the Guardian was made into the film Ghosts. Her book on undocumented Chinese immigrants in Britain, Chinese Whispers, was shortlisted for the George Orwell Prize.