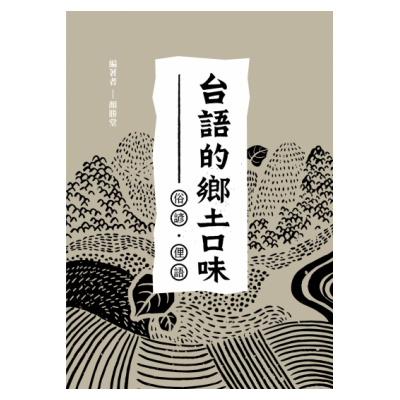 The local taste of Taiwanese proverbs and slang
Publisher:
Category:
★A treasure given to everyone by seniors★
★The author was awarded the "Teacher Award" twice! ★
★The best companion for learning Taiwanese (phuānn-tshiú)★
★The largest language learning institution in France——
The Paris Adult Education Center (Cours d'Adultes de Paris) of the City of Paris launched the "Taiwanese Class" for the first time this year! ★
YAN, SHENG-TANG, the author  of "The local taste of Taiwanese proverbs and slang", has been awarded the "Teacher Award" twice. He is an 80-year-old middle school principal who has retired for many years.

In 1984, while serving as the principal of Dongrong Junior High School in Chiayi County, he was "driving the ducks to the shelves" and taught "The Analects" in Taiwanese. Since then, he opened the door to Taiwanese language application.
After retiring, he returned to his hometown to work as a volunteer in Beigang Chaotian Temple (Mazu Temple). He still wandered in the local culture and history, the Taiwanese dialect of Beigang tune, and met a group of people.

A young friend seeking truth from facts-a founding member of the Taiwan Language Research Institute (student club) of China Medical University.
I saw medical students participating in off-campus health education services and going to Taixi Village, Dacheng Township, Changhua County for several free consultations, because the rural elders did not know Mandarin, so they spoke in Taiwanese.

In addition, the students are not fluent in listening and speaking Taiwanese, and their verbal communication is not smooth, resulting in sub-perfect consultations. Therefore, the "Taiwan Language Research Society" was founded to improve
Health education quality.
He was deeply moved and decided to start writing the book "The local taste of Taiwanese proverbs and slang".
The motivation for writing is to commend young people's positive attitude towards life, and also want to share the cordiality of Taiwanese with people who are willing and concerned about the promotion of Taiwanese and Taiwanese.
The beauty of language and phonology.
The author refers to the "Taiwanese Hokkien Commonly Used Words Dictionary" issued by the Ministry of Education, and uses his rich life experience to add proverbs and slang in Taiwan's native language to
The unique taste description is presented in the form of item listing. The explanations and narrations other than the items are also in Mandarin and Mandarin, which is convenient for people who are not familiar with Taiwanese to read.
The top column of each entry is Taiwanese words, the bottom is Taiwanese Roman pinyin, and the bottom is the classification of proverbs and slang, and the bottom is the explanation in Mandarin and Mandarin.
Let us feel and experience the beauty of Taiwanese together.