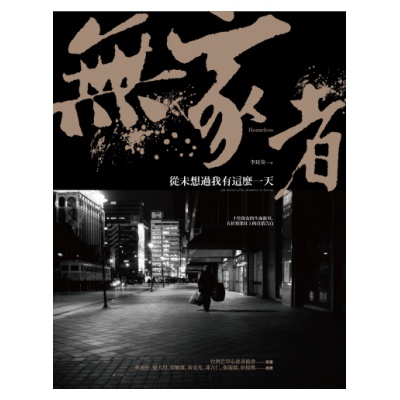 Life Stories of the Homeless in Taiwan
Photographer:
Ching-Wei Lin, Yun-Sheng Yang
Publisher:
Category:
★winner of 2018 TIBE Book Prize (Nonfiction)
★winner of 2017 Golden Tripod Awards (Best Editor)
★Excellent publication recommendation awards of Golden Tripod Awards

In every large city, the homeless are a group of people who are often ignored by the average city dwellers.  Many people would simply pass by and seldom spend time talking to them while trying to understand their world.  No one cares about where they came from, or where their destinations will be in their walk of life.
In order to arouse the general public's awareness of their lives, the Homeless Taiwan Association (a charity organization aimed to help the homeless) had planned to publish a book with Lee Win-Shine (whose interest is in the social welfare of the disadvantaged).  Through Lee's interviews with the people, the book documents the chronicles of ten Taiwanese homeless of various backgrounds: including former military soldiers, businessmen and merchants, blue collar workers, convicts, gang members, and the disabled people.  Each story brings to life their journey from "home" to "homeless," by providing insights into their past, their present daily life on the streets as a homeless person, and what their outlooks and hopes are for the future.
The book also contains accounts from five social care workers who have been working with the homeless, sharing their experiences and observation of the homeless, and how they view the homeless situation in large cities.  Through their accounts, the reader sees how these workers have made every effort to make a home for the homeless, and what impact their work with the homeless has had on them.
Through the stories told by the homeless, and the social care workers, the reader will begin to appreciate and comprehend the causes and reasons for the homeless in Taiwan and help provide a better understanding of how social structure and social changes have affected each and every one of us.
Only when we start to take off our tinted glasses and open our minds to understand and listen, can we begin to slowly embark on a path of change to address the problem.
Author: Win-Shine Lee
Copyright©2016 Homeless Taiwan Association
Illustration©2016 Jiang
Photographs©2016 Ching-Wei Lin, Yun-Sheng Yang
Published by Guerrilla Publishing Co., Ltd., 2016
ISBN 978-986-92364-6-1